---
Temporal Exhibition " JAPAN COLOR - Where culture meets nature - "
Click to the Japanese Page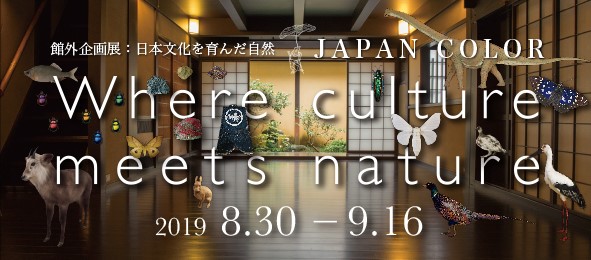 With the opportunity to host the 2019 ICOM (International Council of Museums) in Kyoto and the 2020 Olympics and Paralympic Games in Tokyo, there are growing expectations for effective utilization of Japan's traditional culture and historic buildings (= legacies.) A series of exhibition "Where culture meets nature" that conveys the relationship between Japan's nature and culture by fusing the tasteful spaces of historic buildings and the beauty of natural history specimens began in 2016 in cooperation with the natural history museums across Japan as part of the project called "Succession and transmission of legacies from natural history," commissioned by the Ministry of Education, Culture, Sports, Science and Technology ("Agency for Cultural Affairs" since 2018).

 This year will be the fourth edition of "Where culture meets nature," and it takes place at Noguchi Residence Karaku-an, a tangible cultural property designated by Kyoto City, during the ICOM convention. With the theme "Japan Color," the relationship between nature and culture of Japan will be explored from the perspective of color. The exhibition will include beautiful creatures and rock minerals of Japan, Japanese painting materials such as mineral pigments and Japanese brushes, and cloths for plant dyeing.

 Please keep in mind there is no restroom and parking lot at the venue. Arriving by public transportation is recommended. To reach the venue, get off at Shijo Subway Station/Karasuma Station on the Hankyu Line, take Exit 24 and Shijo Dori to the west (toward Omiya), and then, turn right at Aburanokoji-Dori Street.


Exhibition
Title: JAPAN COLOR

Series of exhibition: Where culture meets nature

Duration: 30 Aug. 2019 (Fri) - 16 Sep. 2019 (Mon)

Venue: Noguchi Residence, Karaku-an, Fujimoto-cho 544 (Aburanokoji-dori, Shijo-dori-agaru), Nakagyo-ku, Kyoto

Admission Fee: 500 JPY high school student or smaller for free

Organized by Executive Committee on the promotion of natural history museum in Japan (Hokkaido Museum, Tochigi Prefectural Museum, National Museum of Nature and Science, Miemu, Itami City Museum of Insects, Osaka Museum of Natural History, Lake Biwa Museum, Natural History museum, Kishiwada City, Kashihara City Museum of Insect, Kitakyushu museum of natural history & Human History. Secretary: Museum of Nature and Human Activities, Hyogo), Board of education, Hyogo Prefecture, Institute of Natural and Environmental Sciences, University of Hyogo

Exhibition Cooperation: Shinshu University, Fukui City Museum of Natural History, Yonago Waterbirds Sanctuary Park, Ochanomizu University, Mikage High School, Uwajima Suisan High School, Osaka University, Honen-in Mori no Center, Himeji City Science Museum, Inachu Japan, Mosslight-LED, Junichi Watanabe

Special Cooperation: Textiles Yoshioka, tezomeya

Sponsorship: Agency for Cultural Affairs, Kyoto Prefecture, Kyoto City, Educational Board, Kyoto City, ICOM Kyoto 2019 Organising Committee, The Network for Natural History Museum in western Japan, Osaka Shizenshi Center